Complete Guidelines on about Banglarbhumi Website Fees Payment Service option available in banglarbhumi.gov.in web portal……
Government of West Bengal together with the State Land & Land Reforms Department is now providing Fee payments services online. This is made possible thanks to Banglarbhumi website, an online web application that mainly serves West Bengal residents. Banglarbhumi website was developed for the main purpose of promoting transparency whenever you want to access Land and Land Reforms Information.
How to check Fees Payment Service in banglarbhumi.gov.in
As we've already told you that you'll have to enter the banglarbhumi.gov.in web portal address in the search bar of your browser (Mozilla / Chrome / Safari / Opera). Here, you should go on the Online Application Section given in the Home Page and here Fees Payment Option will be shown accessing which you can reach on the particular page. The following are the detailed guidelines on how to check Fees Payment in the banglar bhumi web portal.
Open West Bengal land records official website using https://banglarbhumi.gov.in as the link. This link will automatically redirect you to the homepage of Banglarbhumi Website.
Next, place your mouse cursor on 'Online Application' service. This action will generate a drop down box containing details like Mutation Application, Conversion Application, Fees Payment just to name but a few.
Click on 'Fees Payment' option to make use of the fees payment service in Banglarbhumi. You will be redirected to a new page on the site containing 'Fees Collection' form.
Here, you will have to select the 'Request Type' by clicking on the dialog box set aside for this detail. This action will generate a drop down box containing details like Conversion and Mutation.
Select the appropriate option that you wish to use by clicking on it.
Next enter the 'Application No', after that type the characters that appear in the captcha image. Click on 'Refresh' button if you do not see the captcha image clearly.
Click on 'VIEW' after filling in all the details correctly.
You will now be able to see the Applicant's name, application date, application fee and processing fee, which are in INR [Indian Rupee].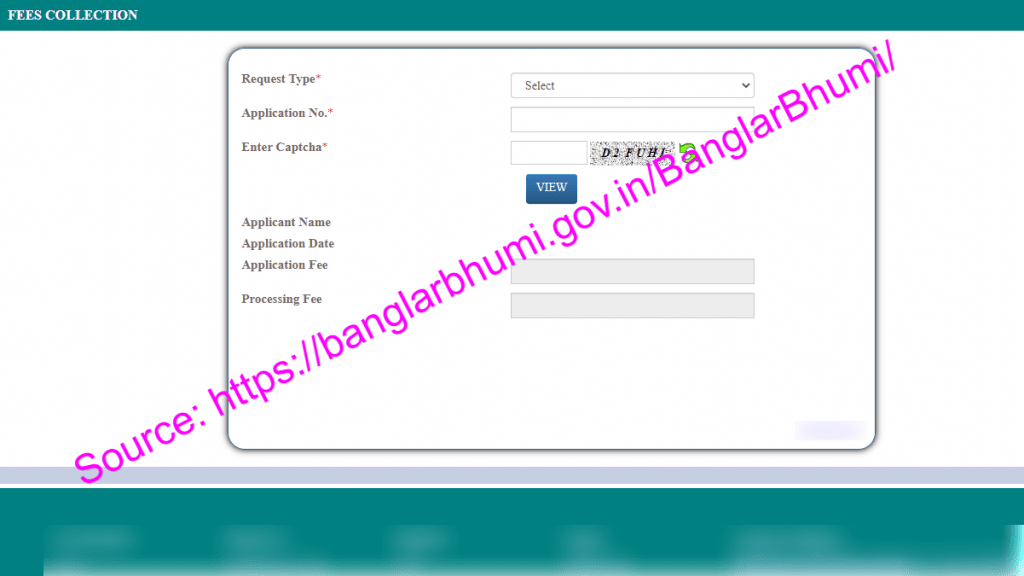 If you want to pay the fees using Net banking or GRIPS option then one has to register their Mutation Case Number. West Bengal residents who want to make their payment using "Counter Payment" will have to use the online application service for verification purposes. Here, they should click on "Application GRN Search" to verify the payment while also registering their case. People who do not receive a verification message after making the payment will also have to rely on "Application GRN Search" to verify their payment.
How to Pay Online Fees Payment in banglarbhumi.gov.in website?
How to pay fees payment in Banglarbhumi website?

To pay the fee of different services, visit Banglarbhumi website and click on the Online Application tab. From the drop-down list, click on 'Fee Payment' and choose from the options displayed. Enter the details required before choosing the mode of payment. Once the details are verified, a confirmation message will be displayed on your screen.

How to pay West Bengal Professional Tax online?

To pay tax online in West Bengal through ePayment system, you ought to visit Banglarbhumi website. Click on 'PT ePayment' option and choose the type of professional tax you want to pay. Finally, fill the details that are required before you can click on the 'Submit' payment to complete the transaction.