Step by step guidelines on How to know your Property value under Citizen Service option in banglarbhumi.gov.in 2021 website…..
The state government of West Bengal runs a web portal for land records and reforms. This web portal (Banglarbhumi Website) helps citizens of West Bengal in retrieving any land or property related information such as plot number, land area, value of the property, name of the owner just to mention but a few. Having details on Know your Property value of your land is very important to a buyer or owner especially when you want to make a purchase.
How to check Know Your Property Value in banglarbhumi.gov.in
Residents of West Bengal can now get information about their property or land by simply visiting Banglarbhumi Website. Any person who wants to Know Your Property and get this information can follow the simple steps given below.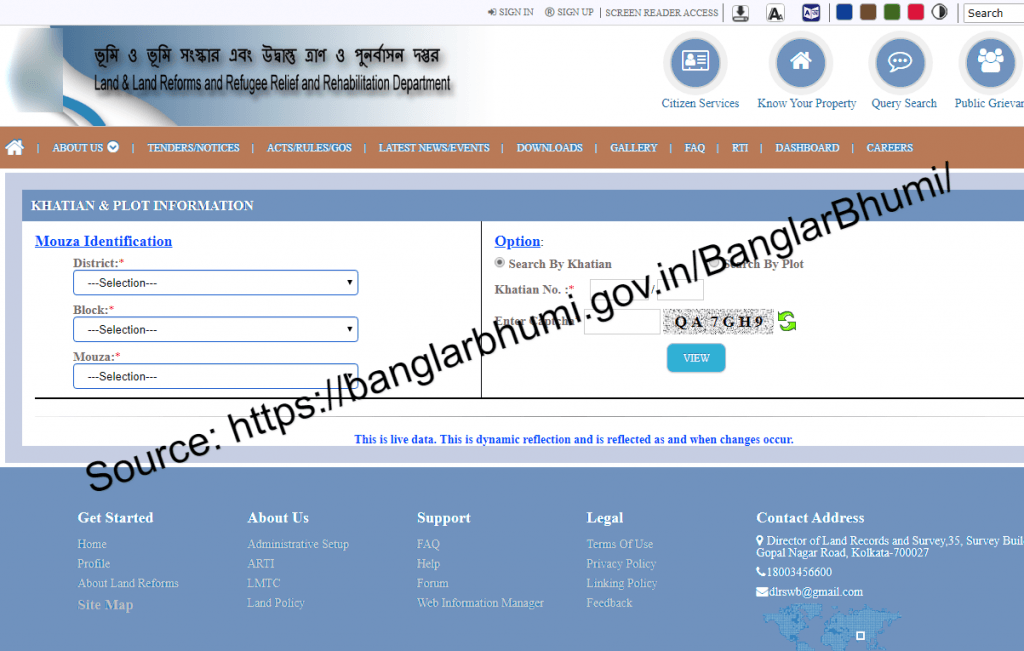 Enter https://banglarbhumi.gov.in on the search bar of your installed browser i.e. Google Chrome, Mozilla Firefox or internet explorer. This is the official link of Banglarbhumi website.
Press the 'Enter' button on your device to initiate the search process. You will then be redirected to the official homepage of Banglarbhumi Website.
On the homepage of Banglarbhumi Website, click on 'Citizen Services' tab.
A drop down menu will appear on your screen from where you should click on 'Know Your Property' option.
You will be redirected to a new page on the site. Here, you must carefully fill in the District, block and Mouse (Village) details in the space set aside for this information.
Select the option that you wish to use in searching to Know your property value information i.e. using plot number or using Khatian number.
Click on the 'Submit' button after filling in all the details correctly.
After submitting the details, they will be matched with the current records before finally getting the required details. You will then be able to see your property or land information without facing any issue.
Remember to make use of a fast internet connection when visiting Banglarbhumi Website. Failure to do this, you will have to cope with slow browsing speeds which increases the time taken to get your land or property information.
How to Know your Property in Banglarbhumi official website
How to Know West Bengal Land Property Information ?

Just go through the West Bengal state land reforms website. On the top of the right corner you can see 'Know your property' option. Just hit on it. Then you must enter the khatian number or Plot Number. Enter the captcha then hit on 'Submit'.

How to know the Government Land Value in West Bengal State?

There was a procedure to know the Government land valuation in West Bengal State. You can check the Land related information either banglarbhumi.gov.in website or wbregistration.gov.in official website.